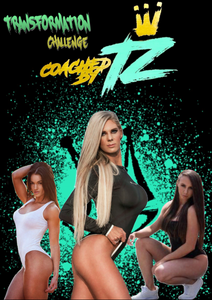 One of our amazing 12 week transformation challenges.
Do this challenge at your own pace.
This challenge ebook has meal & training plans to assist you with your 12 week body transformation!
 ---------------------------------------------------------------------------------------------
Please note that you will not be assigned a supervising coach, nor will there be any  check in's or personalised meal/ training plans with this ebook challenge.  
This is an easy to follow pre designed challenge, created by our CoachedByTZ coaches.
BY PURCHASING THIS PRODUCT,  I AGREE TO THE FOLLOWING DISCLAIMER 
NOT FOR RESALE
This guide as well as training programs, belong to CoachedByTZ. No part of any of these may be reproduced in any manner whatsoever without the written consent (proof) of CoachedByTZ.
COPYRIGHT NOTICE
This guide as well as training programs and diets have been made by CoachedByTz and is copyrighted by CoachedByTz.
WAIVER AND RELEASE BY LIABILTY OF CLIENT
I affirm that I am of legal age and agree to this Agreement.
I am aware that the activities and programmes in which I have decided to participate may range from vigorous cardiovascular activity to exertion of strength training which may involve certain risks.
I am voluntarily participating in programme activities with the knowledge of risks involved and hereby agree to accept any and all inherent risks as may pertain.
I further agree to indemnify and hold harmless (CoachedByTz ) for any and all possible risks arising as a result of my engaging in programme activities or any activities incidental thereto, wherever, whenever or however they may occur.