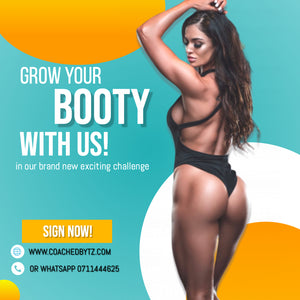 How much can you boost your butt in 6 weeks? 
CoachedbyTZ are introducing a healthy challenge designed to lift your glutes and shape them beautifully. 
How many woman are desperate to change their butts? YES WE KNOW - so many of us! Thats why we decided to do something slightly different this challenge and set up our workout with the specific goal of TOTAL GLUTE TRANSFORMATION. The workout focuses on 3 lower body days, 2 full body days and 1 upper body day. We will be giving meal plans according to your weight through the challenge. AND as a bonus for those who love a challenge or get bored quite quickly we have designed the program into 2 x 3 week phases to keep you all fired towards achieving the best glutes you can in just 6 weeks. 
Who is ready?